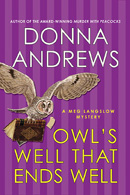 Owl's Well That Ends Well
In Owl's Well That Ends Well, Meg and Michael have bought a house from the estate of the uncrowned Queen of the Packrats and must clean out decades of junk. Their solution: a yard sale.
As always, Meg's large family flocks in to help. Many even come with junk of their own to add to the sale. Meg is coping (barely) with all this until the body of a local antique dealer is discovered in an old trunk.
The police temporarily close the sale down to investigate. When the professor who can swing the vote in favor of Michael's tenure becomes a suspect, Meg decides that the only way to prove his innocence, and avoid being stuck with several tons of unsold junk, is to find the killer herself, and quickly.

Available in paperback, as an ebook, and in audio: where to buy

Awards
Nominated for the Agatha Award for best novel