Books
The Meg Langslow series
(see also short stories.)
Murder with Peacocks
Murder with Puffins
Revenge of the Wrought Iron Flamingos
Crouching Buzzard, Leaping Loon
We'll Always Have Parrots
Owls Well That Ends Well
No Nest for the Wicket
The Penguin Who Knew Too Much
Cockatiels at Seven (July 2008)
Six Geese A-Slaying (October 2008)
Swan for the Money (August 2009)
Stork Raving Mad (July 2010)
The Real Macaw (July 2011)
Some Like It Hawk (2012)
The Hen of the Baskervilles (July 2013)
Duck the Halls (October 2013)
The Good, the Bad, and the Emus (July 2014)
The Nightingale Before Christmas (October 2014)
The Lord of the Wings (August 2015)
Die Like an Eagle (August 2016)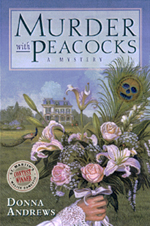 Murder with Peacocks
Winner of the 1998 St. Martin's Press/Malice Domestic Best First Traditional Mystery Contest, Donna Andrews introduces a cast of quirky characters who will pull her heroine in different directions as she plans three successive summer weddings.
When Meg Langslow is roped into being a bridesmaid for the nuptials of her mother, her brother's fiancee, and her own best friend, she is apprehensive. Getting the brides to chose their outfits and those of their bridesmaids (and not change their minds three days later), trying to capture the principals long enough to work out details, and even finding peacocks to strut around the garden during the ceremony--these are things Meg can handle. She can brush off the unfortunate oaf who is smitten with her, and take philosophically her disappointment when she learns that the only eligible man in her small Virginia town (and a delightful hunk he is)is of questionable sexual preference. But even Meg is taken aback when the unpleasant former sister-in-law of Meg's soon-to-be stepfather disappears and is later found dead.
Well, that's one way to zip up a wedding, and Andrews does a fine job of making the three celebrations more fun and more unusual than anything you've ever read in Ann Landers.

ISBN-13: 978-0312970635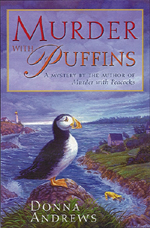 Murder with Puffins
In an attempt to get away from her family, Meg and her boyfriend go to a tiny island off the coast of Maine. What could have been a romantic getaway slowly turns into disaster.
Once there, they are marooned by a hurricane and that is only the beginning of their problems. Meg and her boyfriend arrive at the house only to discover that Meg's parents and siblings, along with their spouses are all there. When a murder takes place, Meg realizes that she and her boyfriend can no longer sit by a cozy fireplace, but must instead tramp around the muddy island to keep try and clear her father who is the chief suspect.

ISBN-13: 978-0312978860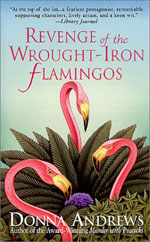 Revenge of the Wrought Iron Flamingoes
Every year, Yorktown, Virginia, relives its role in the Revolutionary War by celebrating the anniversary of the British surrender in 1781. This year, plans include a re-enactment of the original battle and a colonial craft fair. Meg Langslow has returned to her home town for the festivities--and to sell her wrought-iron works of art. Except, of course, for the pink-painted flamingos she reluctantly made for her mother's best friend--she's hoping to deliver them secretly, so she won't get a reputation as "the blacksmith who makes those cute wrought-iron flamingos."
Besides, she has taken on another responsibility--making sure none of her fellow crafters ruin the historical authenticity of the fair with forbidden modern devices--like wrist watches, calculators, or cell phones. She's only doing it to keep peace with the mother of the man she loves. And Michael himself will don the white-and-gold uniform of a French officer for the re-enactment--what actor could resist a role like that?
Meg's also trying to keep her father from scaring too many tourists with his impersonation of an 18th century physician. And to prevent a snooping reporter from publishing any stories about local scandals. Not to mention saving her naive brother, Rob, from the clutches of a con man who might steal the computer game he has invented. It's a tough job--at least, until the swindler is found dead, slain in Meg's booth with one of her own wrought-iron creations.
Now Meg must add another item to her already lengthy to do list: "Don't forget to solve the murder!"
Crouching Buzzard, Leaping Loon
Poor Meg Langslow. She's blessed in so many ways. Michael, her boyfriend, is a handsome, delightful heartthrob who adores her. She's a successful blacksmith, known for her artistic wrought-iron creations. But somehow Meg's road to contentment is more rutted and filled with potholes than seems fair.
There are Michael's and Meg's doting but demanding mothers, for a start. And then there's the fruitless hunt for a place big enough for the couple to live together. And a succession of crises brought on by the well-meaning but utterly wacky demands of her friends and family. Demands that Meg has a hard time refusing---which is why she's tending the switchboard of Mutant Wizards, where her brother's computer games are created, and handling all the office management problems that no one else bothers with. For companionship, besides a crew of eccentric techies, she has a buzzard with one wing---who she must feed frozen mice thawed in the office microwave---and Michael's mother's nightmare dog. Not to mention the psychotherapists who refuse to give up their lease on half of the office space, and whose conflicting therapies cause continuing dissension. This is not what Meg had in mind when she agreed to help her brother move his staff to new offices.
In fact, the atmosphere is so consistently loony that the office mail cart makes several passes through the reception room, with the office practical joker lying on top of it pretending to be dead, before Meg realizes that he's become the victim of someone who wasn't joking at all. He's been murdered for real.
We'll Always Have Parrots
In We'll Always Have Parrots, Meg travels with her fiance Michael to a fan convention for Porfiria, Queen of the Jungle--a cheesy cult TV show on which Michael has a minor role. Michael hopes the weekend will give him a chance to talk Miss Wynncliffe-Jones, the show's temperamental leading lady and executive producer out of enforcing a certain provision in Michael's contract.
Of course, Michael's not the only person whose career the dictatorial star has manipulated. So when the star is found murdered, the police have plenty of suspects. Trouble is, Meg doesn't believe they're going to arrest the right one. Soon she finds herself following the murderer's trail through a hotel filled with egotistical actors, costumed fans, and a motley flock of monkeys and parrots who, rebelling against their role as live scenery, have escaped from their cages to take an active (and noisy) role in the festivities.

ISBN-13: 978-0312996758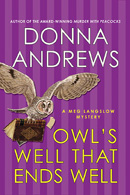 Owl's Well That Ends Well
In Owl's Well That Ends Well, Meg and Michael have bought a house from the estate of the uncrowned Queen of the Packrats and must clean out decades of junk. Their solution: a yard sale.
As always, Meg's large family flocks in to help. Many even come with junk of their own to add to the sale. Meg is coping (barely) with all this until the body of a local antique dealer is discovered in an old trunk.
The police temporarily close the sale down to investigate. When the professor who can swing the vote in favor of Michael's tenure becomes a suspect, Meg decides that the only way to prove his innocence, and avoid being stuck with several tons of unsold junk, is to find the killer herself, and quickly.

ISBN-13: 978-0312997908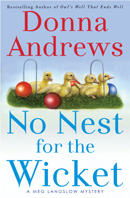 No Nest for the Wicket
The hilly terrain next to the old Sprocket house that Meg Langslow and her fiance, Michael, are refurbishing is the perfect location for an "extreme" croquet field--even the legs of cows and sheep are convenient extra wickets. A sport traditionally reserved for genteel society, croquet has become all the rage in Caerphilly…until it appears someone in town has taken the "rage" a bit too literally.

While stumbling down a steep bank after her ball, Meg encounters the body of a fresh female corpse with a mallet-sized dent in her head. If that isn't reason enough to call a time-out, it turns out that Michael knew the woman from years before. Ever curious, Meg decides that playing arm-chair sleuth is far more important than working on her game . . . and soon she finds herself in the perfect position to solve the murder mystery--or become the next victim.

ISBN-13: 978-0312997915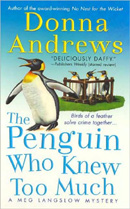 The Penguin Who Knew Too Much
While digging a hole to make a pond for his borrowed penguins, Meg's father digs up a body. And when rumors begin to spread that the corpse might be the owner of the bankrupt local zoo that is normally the penguins' home, anxious volunteers begin taking advantage of Dad's generous offer to take in the animals they've been fostering. As the llamas, sloths, and hyenas begin to arrive, Meg fears that by the time the police solve the crime, she and her fiance, Michael, will have a zoo in their back yard. A unnerving prospect at any time, but particularly now, when Meg fears it will derail her and Michael's plan to escape their families and elope. So Meg does some sleuthing of her own.
ISBN-13: 978-0312997922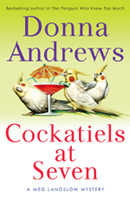 Cockatiels at Seven
When old friend Karen drops by with two-year-old son Timmy, Meg Langslow reluctantly agrees to baby sit "just for a little while." But Meg soon finds herself investigating Karen's disappearance--with the wayward toddler in tow. Has Karen been killed or kidnapped? Is she on the run from the bad guys? Or is she one of the bad guys? As usual, Meg's relatives further complicate her life. What covert animal welfare project are Dad and the curmudgeonly zoologist, Dr. Montgomery Blake, working on--and will Meg have to bail them out of jail again? Why does Meg's brother keep disappearing? And are any of Meg's relatives reliable enough to be trusted with a two-year-old whose whereabouts might be of interest to some very dangerous people?
ISBN-13: 978-0312377168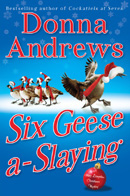 Six Geese A-Slaying
Meg and Michael's house is serving as the marshaling point for the annual Caerphilly Christmas parade. And Meg is organizing the parade--the theme is "The Twelve Days of Christmas," and it features twelve drummers from the school marching band, eleven bagpipers, ten leaping lords costumed in medieval finery from the college drama department, etc. There are also assorted Christmas-themed floats, a live nativity scene on a flatbed truck, the Three Wise Men on Caerphilly zoo camels, and Santa Claus in a bright red horse-drawn sleigh. Meg's job is already heard enough when her nephew Eric, wide-eyed and ashen-faced, whispers, "Meg, something's wrong with Santa." The local curmudgeon, whose beard and belly made him a natural for the role, has been murdered. Now Meg and Chief Burke, (playing one of the wise men) are faced with the two-fold mission of solving the murder and saving Christmas!
ISBN-13: 978-0312536107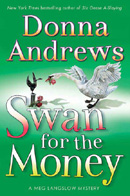 Swan for the Money
Meg Langslow's eccentric parents have a new hobby--growing roses and entering them in highly competitive shows. Dad's gardening skill and Mother's gift for selecting and arranging the blossoms should make them an unbeatable team--and Meg is relieved they've taken up such a safe, gentle hobby. She even volunteers to help when the Caerphilly Garden Club sponsors its first annual rose show. But after a few hours of dealing with her parents' competitors, Meg is worried. Rose growers are so eccentric that they make Meg's family seem almost normal, and so competitive that they will do nearly anything to take home the show's grand prize--making them prime suspects when Meg discovers that someone is attempting to kill the wealthy woman on whose estate the competition is being held. Of course, the intended victim had other enemies--her treatment of her farm animals had aroused the interest of several animal welfare activists, including Meg's zoologist grandfather. Meg tries to leave detecting to the local police and focus on protecting her parents' chances to win the coveted Black Swan trophy, but she soon finds herself compelled to solve the crime before any more rose growers die.
It's Swan for the Money, two for the show, three to get ready...now go Meg go!
ISBN-13: 978-0312377175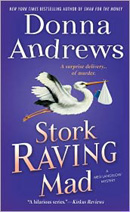 Stork Raving Mad
Meg is eight and a half months pregnant with twins when Michael asks if she wouldn't mind another houseguest. One of his doctoral students is directing his new translation of a play by a minor Spanish playwright, and the playwright has agreed to come to town for the production.

Senor Mendoza turns out to be a drinker, a smoker, and an inveterate partygoer. Before long, Meg's kitchen is filled with the smells of Spanish food and the voices of all the wilder souls in both the drama and Spanish departments. Into this chaos arrive two prune-faced administrators, the dean of the English department and a man from the college president's office, who say that the play must be canceled.

When the dean is found murdered, Meg's house becomes a crime scene, and the only way to restore peace is to help Chief Burke solve the murders---while rescuing the student's dissertation and Michael's tenure---all before dashing off to the hospital to give birth to her twins!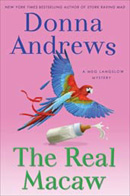 The Real Macaw
During a 2am feeding for her four-month-old twins, Meg Langslow hears an odd noise and goes downstairs to find her living room filled with dozens of animals--cats, dogs, hamsters, gerbils, rabbits, guinea pigs, and a stunningly foul-mouthed macaw.

She soon learns that financial woes have caused the local animal shelter to repeal its no-kill policy. Her kindhearted father, her zoologist grandfather, and other like-minded citizens have stolen all the shelter's animals, both as a gesture of protest and to protect them until the hated policy can be repealed. But the volunteer who was to transport the animals to new homes has been murdered. Was it the victim's tangled love life that drove someone to murder? Or the dark secrets behind local politics? And will Meg ever succeed in finding homes for all the animals that have landed in her life?


You've Got Murder
Click Here for Murder
Access Denied
Delete All Suspects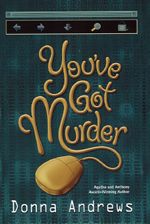 You've Got Murder
Normally a workaholic techie, Zack has missed work for several days. So his friend, Turing, does the only neighborly thing and checks to see if Zack is logged in from home. No luck. Then she skims the databases of local banks to find his personal identification number. Nothing. Next she searches police and hospital records throughout the state. No Zack. Turing is no crazed stalker: she is an artificial intelligence personality of Zack's creation. But, unlike other AIPs, Turing is sentient--and she senses foul play. Fortunately, when Zack created her, he downloaded into Turing every murder mystery in his library, so Turing would think like a detective. She does find some clues to Zack's disappearance, but the enemies may well lie in the real world--where Turing has no ability to move.
Fresh, funny, and surprisingly moving, You've Got Murder is a novel you'll never forget--and the first mystery to feature the equally unforgettable character of Turing Hopper a mainframe computer with a mind like Miss Marple and hardware that hides a suspiciously human heart.

ISBN-13: 978-0425189450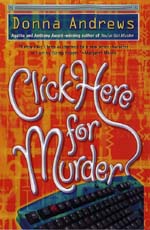 Click Here for Murder
Turing Hopper is one quick-thinking sleuth--so quick that she can process up to a billion pieces of information per second. She's an Artificial Intelligence Personality, an almost-sentient mainframe computer, with a mind like Miss Marple and hardware that hides a suspiciously human heart. But it's hard to do legwork without legs, so sleuthing can pose some problems. That's where her human companions come in.
Ray Santiago's friends from work know him as a brilliant-but-easygoing systems engineer who spends a lot of time on his favorite online role-playing game. But the game is over for Ray: his colleagues from work Maude, Tim, and Turing, have just found out about Ray's murder in a dark alley. He was shot, and his laptop stolen. It could be just another D.C. street crime. But if Turing's password was in that computer--and it's fallen into the wrong hands--she could be in terrible danger

ISBN-13: 978-0425195291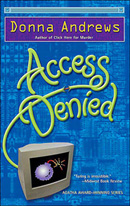 Access Denied
When Turing Hopper, Artificial Intelligence Personality extraordinaire, learns that criminal Nestor Garcia's once-dormant credit card has been doing a lot of shopping lately, she begins to do some sleuthing-and finds out the loot's shown up at an empty bungalow. So Turing gets her human friends to stake out the vicinity. But when one of them sees something he wishes he hadn't-and gets charged with murder-everyone will have to pull together to clear his name. The only way to do it is to find the guilty party-by luring him to attack them. But doing so might very well get them "accidentally" deleted...

ISBN-13: 978-0425200650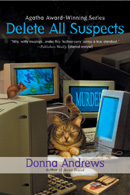 Delete All Suspects
After a hit-and-run leaves young techie Eddie Stallman in the hospital, Turing Hopper, a sentient computer, helps her PI friend Tim find out who did it. Their investigation uncovers evidence of spamming, phishing, and other unsavory online crimes. But when the feds show up looking for an online vigilante who's also using Eddie's computers, Turing and friends are caught in the middle. They can't let the vigilante continue--but they can't tell the FBI everything without revealing Turing's identity to the world.

ISBN-13: 978-0425209028