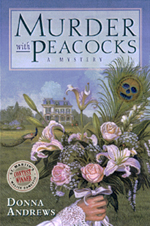 Murder with Peacocks
Winner of the 1998 St. Martin's Press/Malice Domestic Best First Traditional Mystery Contest, Donna Andrews introduces a cast of quirky characters who will pull her heroine in different directions as she plans three successive summer weddings.
When Meg Langslow is roped into being a bridesmaid for the nuptials of her mother, her brother's fiancee, and her own best friend, she is apprehensive. Getting the brides to chose their outfits and those of their bridesmaids (and not change their minds three days later), trying to capture the principals long enough to work out details, and even finding peacocks to strut around the garden during the ceremony--these are things Meg can handle. She can brush off the unfortunate oaf who is smitten with her, and take philosophically her disappointment when she learns that the only eligible man in her small Virginia town (and a delightful hunk he is)is of questionable sexual preference. But even Meg is taken aback when the unpleasant former sister-in-law of Meg's soon-to-be stepfather disappears and is later found dead.
Well, that's one way to zip up a wedding, and Andrews does a fine job of making the three celebrations more fun and more unusual than anything you've ever read in Ann Landers.

ISBN-13: 978-0312970635

Read an excerpt.

Available in paperback and as an ebook: where to buy

Awards
Winner of the Agatha Award for Best First Mystery
Winner of the Anthony Award for Best First Mystery
Winner of the Barry Award for Best First Mystery
Winner of the Lefty Award for Best First Mystery
Winner of the Romantic Times Readers Choice Award for Best First Mystery
Nominated for the Dilys Award
Nominated for the Macavity Award for Best First Mystery