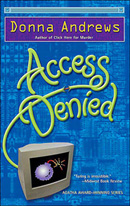 Access Denied
When Turing Hopper, Artificial Intelligence Personality extraordinaire, learns that criminal Nestor Garcia's once-dormant credit card has been doing a lot of shopping lately, she begins to do some sleuthing-and finds out the loot's shown up at an empty bungalow. So Turing gets her human friends to stake out the vicinity. But when one of them sees something he wishes he hadn't-and gets charged with murder-everyone will have to pull together to clear his name. The only way to do it is to find the guilty party-by luring him to attack them. But doing so might very well get them "accidentally" deleted...

ISBN-13: 978-0425200650

This book is out of print, but copies of both the hardback and paperback editions are available secondhand.


Available in paperback, as an ebook, and in audio.